Testimony of Roberto Ragone, co-chair,

Vito Marcantonio Forum,

regarding Benjamin Franklin High School, before the New York City Landmarks Preservation Commission, Feb. 13, One Centre Street, Manhattan.
On behalf of the Vito Marcantonio Forum (VMF) an historical/educational organization advancing the history of Italian Harlem and El Barrio- particularly the era when Mayor Fiorello La Guardia, Rep. Vito Marcantonio and Leonard Covello, principal of Benjamin Franklin High School, took the lead on education in the community.
We advocate the landmarking of Benjamin Franklin High School for a variety of reasons. Many of these reasons resonate personally for myself as an Italian American who grew up in a diverse neighborhood with African Americans and Puerto Ricans, and who studied public policy at the Harvard School of Government, who has worked in government and serves as co-chair of the Vito Marcantonio Forum (VMF).
Leo Covello at work.
Leonard Covello (1887-1982) became the first Italian American principal at a time when Italian Americans were discriminated against and viewed as not being able to achieve academically.
Covello was able to gather a "dream team" of qualified teachers to carry out his theory of community-centered learning.
This meant a school that kept kids off the streets, a school as a one-stop center where children could engage in extracurricular activities for personal development and maturity and where busy parents learned English, civics, voting and how to become actively involved in their local community.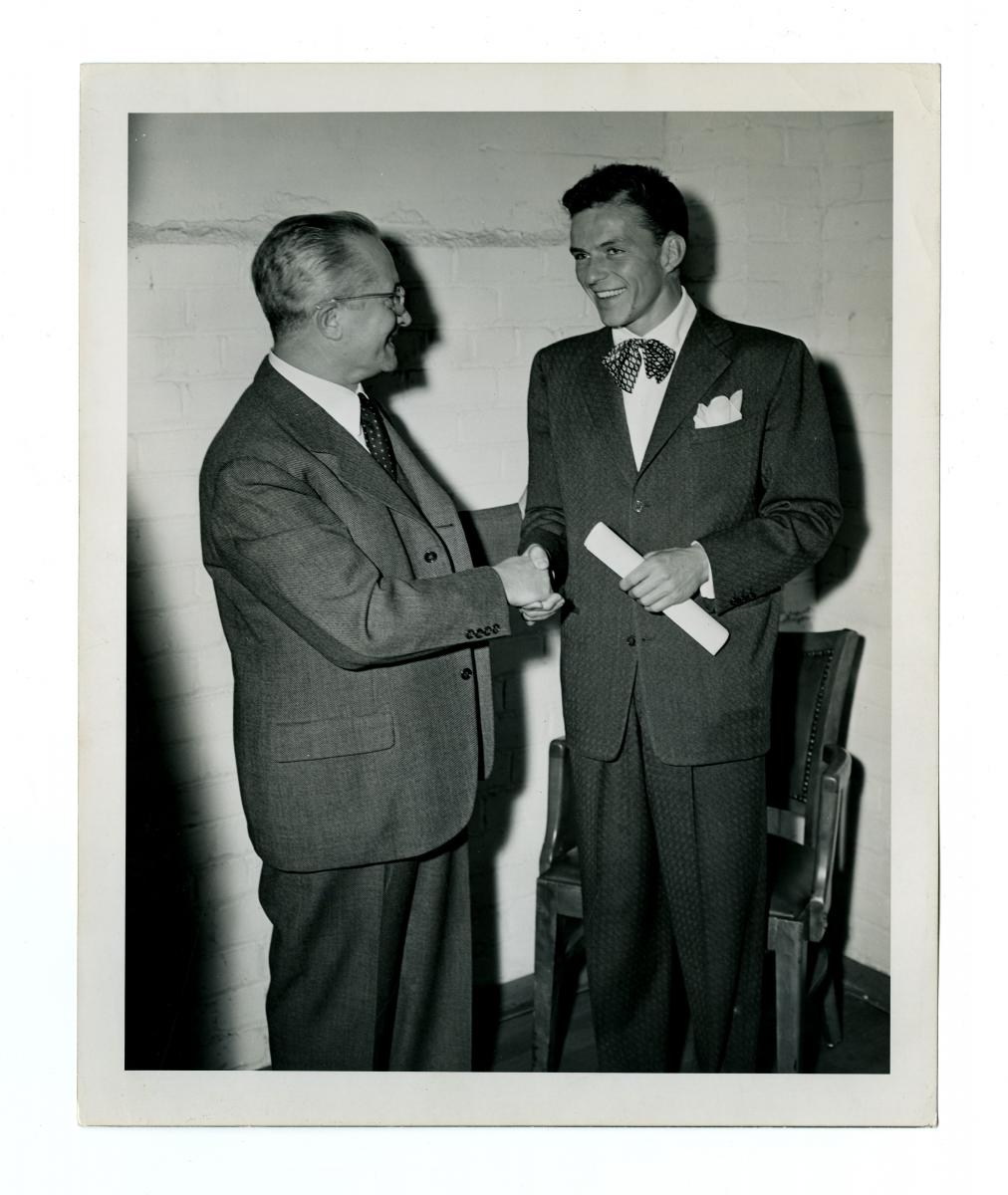 Covello with "Ol' Blue Eyes."
While the broader society derided immigrant culture, Covello made Italian a Regents language and applied an effective form of bi-lingual education and cultural pluralism to foster learning and acculturation, strengthening the connection between heritage and becoming American. "Pop" as Marcantonio called him, further bridged the gap between immigrant children and their parents as well as among people of all races, creeds, and backgrounds.
In fact not only was Benjamin Franklin High School, historically, a case study for innovative education. It also demonstrated how progressive leadership might diffuse racial or cultural tensions.
In September 1945, newspapers hyped a scuffle between African American and Italian American students
and threatened the school's reputation built by Covello over many years as principal. Springing into action, Covello, Marcantonio and La Guardia

got Frank Sinatra

to sing at the school and speak to the kids about racial harmony in the auditorium.
Roberto Ragone as Vito Marcantonio.
The Italian- and African American students, together with the Puerto Rican kids, ended up marching arm-in-arm at the Columbus Day Parade. Covello even managed to get a photograph taken with Frank Sinatra.
The building itself, brainchild of LaGuardia appointee Eric Kebbon, was designed in the Georgian revival style, faced with brick and limestone, and laid down symmetrically in classic Greek and Roman styles.
Within the confines of this structure which did so much to elevate a riverside tenement slum, Covello laid out a hypothesis
about learning and then managed to test it as teacher and principal. He introduced an innovative form of learning: learning by experience by practice, by action, by participation in civic affairs. He demonstrated that theory in application was what mattered. He understood that learning by immersion was what mattered.
Through Benjamin Franklin High School,

Covello changed the way

we think about school. It was more than book knowledge or vocational training. It was about how children can transform their own personalities to become imaginative, creative, and entrepreneurial for themselves, their families, their community and the broader society.
The staff of a school and the school building itself can foster a larger sense of purpose. The school was, and is, a beacon of hope worthy of landmark status.