There are only five monuments to women in New York City and the Vito Marcantonio Forum's (VMF) LuLu LoLo has been doing something about it.
For months, dressed as Joan of Arc-stepped-down-from-her-pedestal at Riverside Park and 93
rd
St., LuLu has walked the streets of Gotham soliciting nominees to increase the number of monuments dedicated to members of Simone de Beauvoir's "Second Sex."
LuLu LoLo's point is simple: The five female statues/monuments pale by comparison to the 175 honoring men in New York City.
There are eight monuments dedicated to bears. Yes, bears.
According to LuLu (aka, Lois Evans) the other four public monuments to women include Harriet Tubman, Eleanor Roosevelt, Golda Meir and Gertrude Stein. A fountain in Bryant Park is dedicated to Josephine Shaw Lowell, an early consumer advocate.
Among the nominees offered up by the voice of the streets during her campaign are Supreme Court Justice Ruth Bader Ginsburg, Grace Lee Boggs, Margaret Sanger, Toni Morrison, Audre Lorde, Leontyne Price, Elizabeth Gurley Flynn, Clara Lemlich, Rachel Carson, Shirley Chisolm, Bella Abzug and Dorothy Day.
Some of those names may be unknown to readers, but if there had been statues erected recognizing their achievements, we might know what those achievements were and the names themselves might carry a greater resonance.
She told newspaper, "There are many memorials that depict women allegorically, representing beauty or sacrifice. Most of the models for those were
Audrey Munson
,
who was beautiful, in the movies even, but wound up in an insane asylum. She was the model for so many. She's the Spirit of Commerce on the Manhattan Bridge."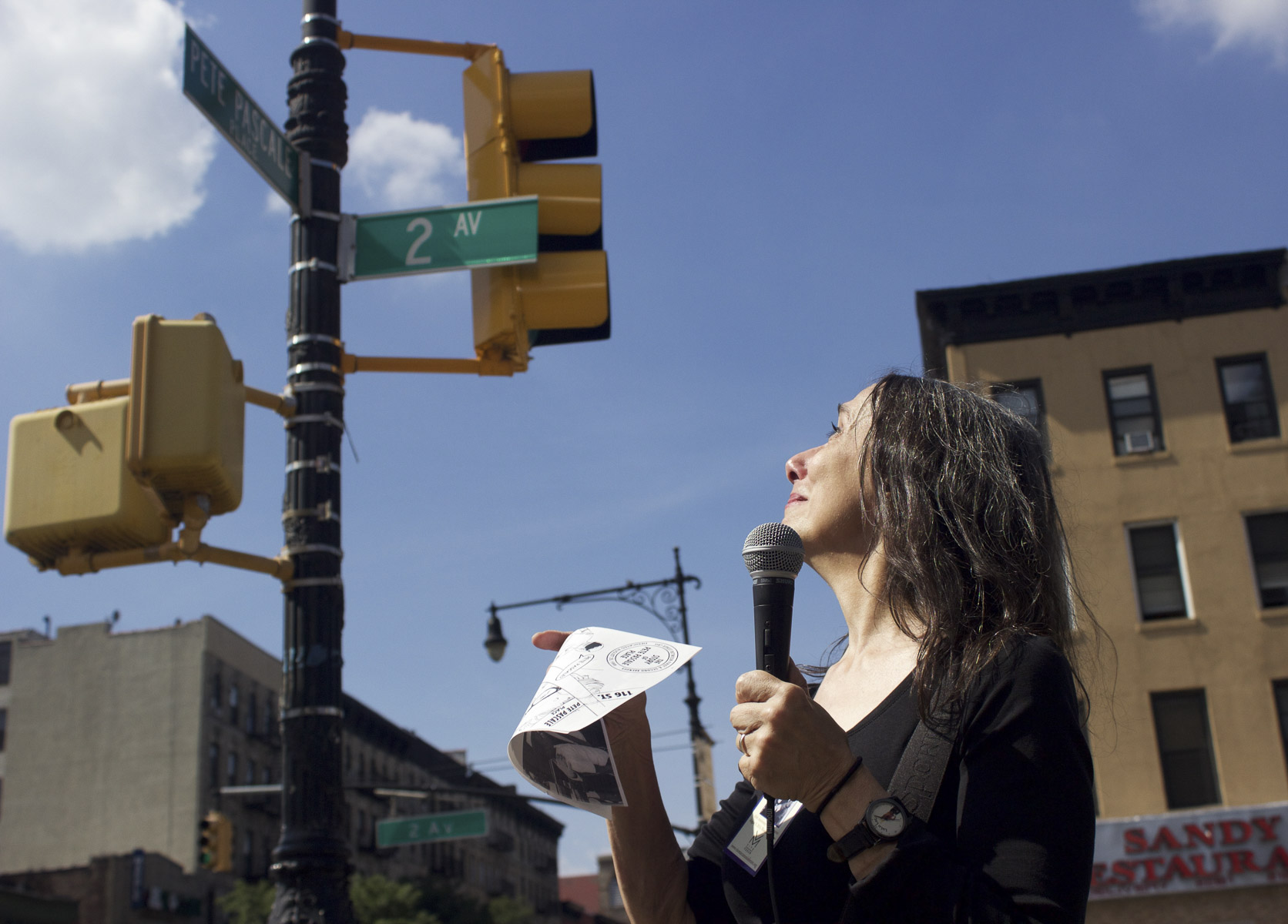 LuLu LoLo at Pete Pascale Place
.
LuLu LoLo is the daughter of Peter Pascale, of
Pete Pascale Place
in East Harlem,
a social worker and associate of Rep. Vito Marcantonio.
She put in a good word for the radical legislator during a recent interview with Audrey Gray on the
"Municipal Arts Society"
podcast,
telling listeners of "The wonderful, controversial congressman Vito Marcantonio, who was a mentor to my father...I wish he was here today, because he always voted his conscience, and he was a man of the people who helped anyone who came to see him."
Rep. Vito Marcantonio had very little say over what kind of statues they put up around New York, but if suggestions had been his to make there might be more than the five currently dedicated to women.
In
"
Vito Marcantonio: Radical Politican,"
Gerald Meyer writes that, "Marcantonio broke sharply with the mores of his community, by working and socializing with a large number of women associates. He had a very close political, personal and perhaps sexual relationship with Anna Damon, the Executive Director of the International Labor Defense and an important figure in the Communist Party.
"Lillian Landau supervised his political apparatus, which included more women than men, provided valued counsel and may have written some of his speeches."
The Federal Bureau of Investigation's file on Marc pegs Landau, as "an old time Communist Party member, who was placed with V.M. by the Communist Party."
In
"Living the Revolution,"
(link)

her study of Italian women's radical culture in late -19
th
Century to mid-20
th
Century New York, scholar Jennifer Guglielmo highlights the work of Esta Pingaro, an important force in the Harlem Legislative Conference, chaired by Marcantonio throughout its six-year existence.
Pingaro worked together with Helen Vasquez, a native
puertorrique
ñ
a
and driving force in Harlem's Communist Party. These women collaborated, in turn, with Fausta Mercado, another native Puerto Rican and Marcantonio ally whose activism focused on education.
Of course, there was Marc's wife, Miriam Sanders, whose career was dedicated to settlement work and other forms of local, civic action.
T
he radical congressman might have nominated Annette Rubinstein, a blacklisted school principal, American Labor Party candidate, and literary critic.
Without her efforts in editing a collection of his speeches and writings,
"I Vote My Conscience,"
(link)
the gap between Marcantonio's accomplishments and his anonymity would be that much wider.